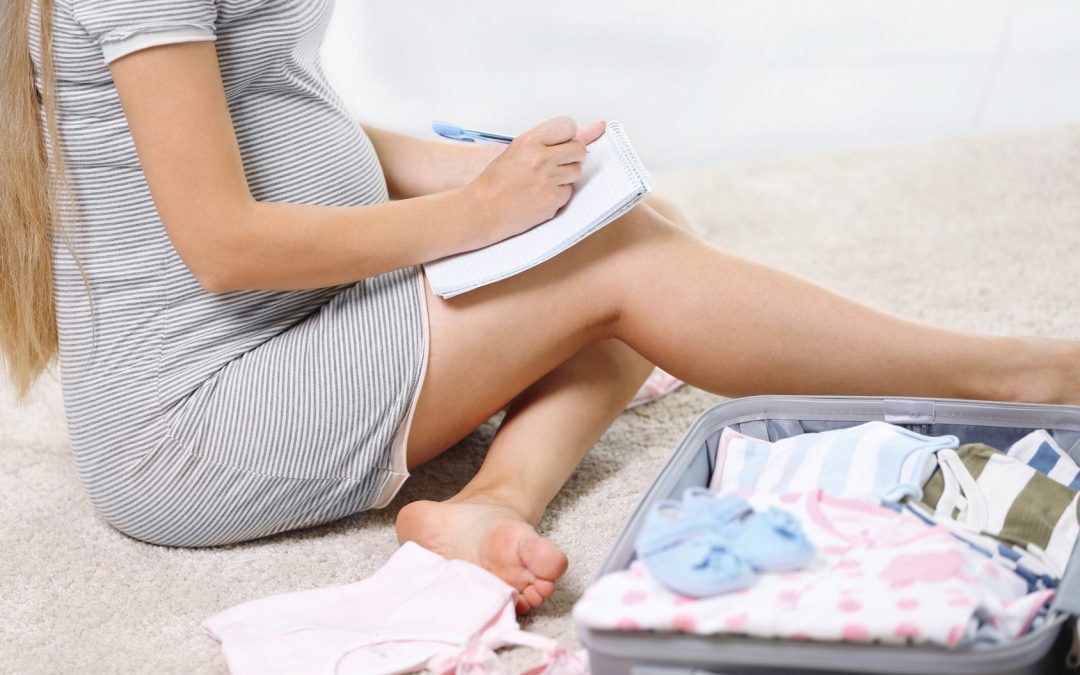 Read time: 4 minutes
TL;DR
Packing your hospital bag might seem like a small task, but preparation is key to ensuring comfort at the hospital during labor, delivery and recovery.

Be sure to have your ID, insurance card and credit card safe and easily accessible in your bag. Bring multiple bags to leave room for things coming home with the baby.

Bring comfortable socks, nightgowns and a cardigan for you, a maternity outfit to come home in, extra clothes for your partner and a coming home outfit for your baby.

Don't forget phone chargers and camera batteries!

You'll need comfortable underwear and absorbent overnight pads for postpartum bleeding, and your favorite shampoo, conditioner, soap and toothpaste will be a must.

With the car seat buckled in and coming home blankies for baby, you're ready to take your little one home!
Packing your hospital bag is one of the final preparations you will have to make before meeting your new little one. While packing the bag seems like a small task on your third trimester to-do list, we understand how overwhelming it is to choose what exactly should and shouldn't come with you to the hospital. Our list of essential items to bring will help you decide what you will need during delivery and what items are better off left at home.
Pack More Than One Bag
While it would be nice if everything you need for birth could fit in one bag, but chances are that you will need more than one. A large suitcase or duffel bag for you and a small one for your partner will help keep all of your items organized. Many moms also recommend bringing an empty duffel bag along to the hospital as well for all of the diapers, supplies and samples that the hospital may give you to make transporting everything home easier.
Essential Information
Even if you pre-registered at the hospital, bring a copy of your insurance card and you and your partner's photo IDs in a place in your bag that is easy to access. If you are choosing to use a birth plan, be sure to also bring extra copies along. A credit card for paying your hospital deductible or co-pay should also be packed in a safe location.
Clothes
The hospital will provide you a gown and sterile socks to wear during labor and after delivery. Most moms, however, feel more comfortable wearing their own clothes. The key is selecting clothes that are comfortable and you don't mind getting stained. Pack several pairs of thick socks to wear while walking the halls and a comfortable nightgown. A soft cardigan and slippers are also good to have.
It will take time for the swelling and extra fluids to leave your body after birth, so pack maternity clothes with a soft waistband for a going home outfit, or wear the same outfit home that you wore to the hospital. A nursing bra without underwire should also be packed to help provide extra support to your breasts and help make nursing easier.
Though your baby will probably wear the hospital-provided gowns during his or her stay, your baby will also need a going-home outfit and blankets to come home in. An extra outfit and pajamas for your partner will also come in handy if he or she is planning on sleeping at the hospital with you.
Electronics
Prepare your phone or tablet ahead of time by downloading plenty of soothing music that will help keep you relaxed during birth. A set of speakers can also come in handy in order for you to hear your music above the hustle-and-bustle of the delivery room. Remember to also bring your phone charger, camera and any extra batteries necessary in order to capture your baby's first pictures and to keep in touch with family. Consider packing these devices in your partner's bag so that he or she can easily access them for memory keeping.
Snacks
Though many hospitals will only let you have ice chips during labor, you will likely be pretty hungry after giving birth. Be sure to pack some healthy snacks for both you and your partner – this is especially helpful if you deliver in the middle of the night and the hospital kitchen is not open.
Toiletries
One common issue that moms have stated during labor is dry lips. It is helpful to have your favorite lip balm on hand during labor. Though the hospital will provide shampoo and soap, you may be more comfortable packing travel-size tubes of your favorite toiletries for showering in the hospital. You'll need supplies to take care of your hair and skin as well. Consider also packing an extra tube of toothpaste, a toothbrush and deodorant for your partner if he or she is planning on staying overnight with you.
Extra Underwear and Overnight Pads
After you have your baby, your uterus will begin shrinking, shedding its lining as it contracts to its pre-pregnancy size. Postpartum bleeding is much like a menstrual period and can last up to six weeks. The hospital will provide a mesh pair of underwear and a thick pad to wear after birth and for going home, but many moms find them uncomfortable and bulky. Packing extra-absorbent, overnight pads and extra underwear from home can help you feel more comfortable while at the hospital and on the trip home.
Car Seat and Blankets
Most hospitals won't let you leave without ensuring that your baby has a safe way to travel home. Bring the car seat, with the base properly installed inside of the car, with you to bring your new little one home. Depending on the weather, extra blankets may be necessary to keep your baby warm while traveling.
We recommend packing your hospital bag at least three weeks before your due date and storing it close to the door to grab as soon as you need to go to the hospital. Preparing ahead of time for your hospital birth will make the process go smoothly and will help ensure that essentials don't get left behind when you go into labor.
From packing your hospital bag to ordering your breast pump and bringing your new bundle of joy home, BreastPumps.com is ready to provide the support and resources you need throughout your parenting journey.